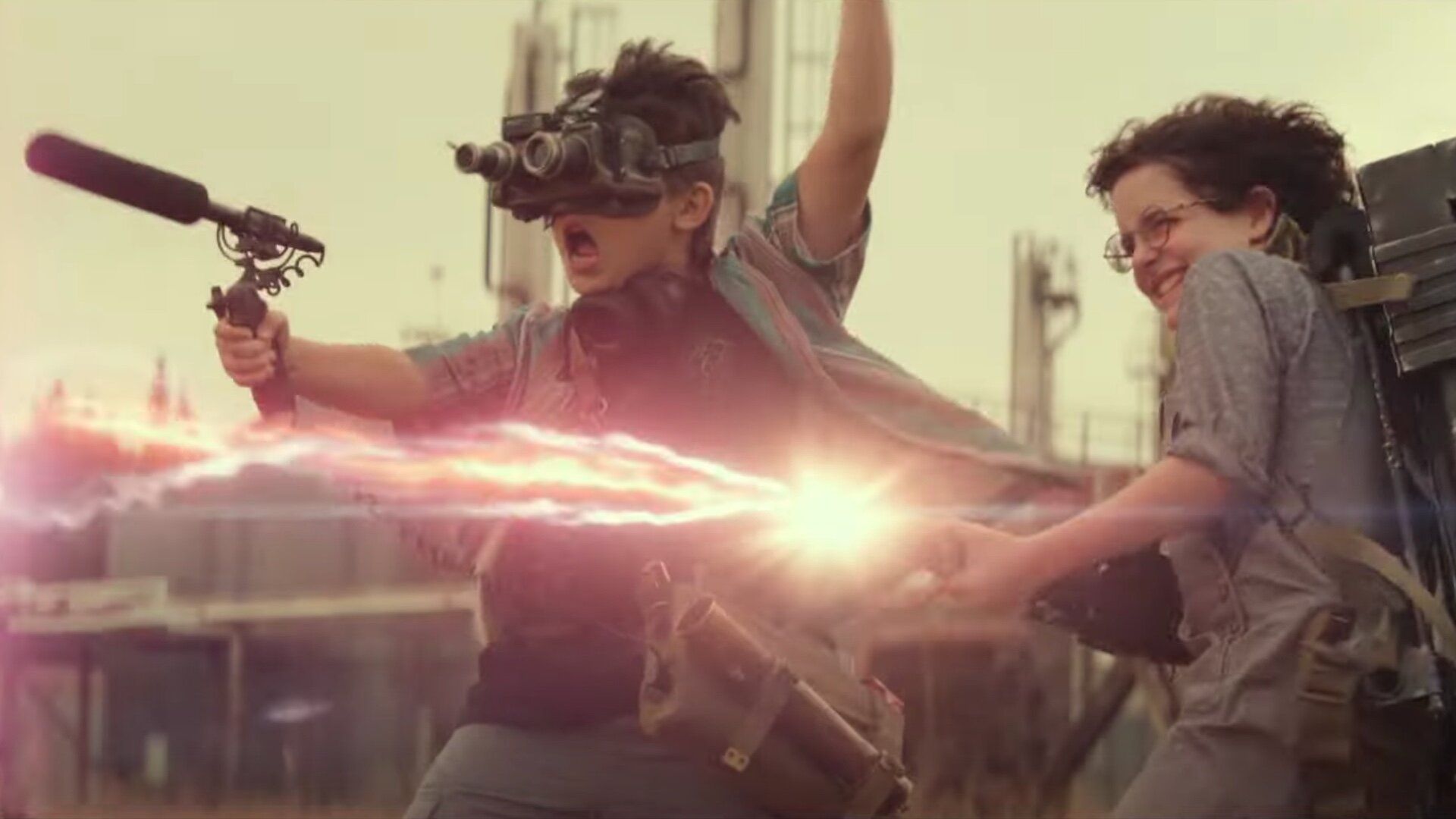 Ghostbusters: Afterlife had a hard run in during the final week before its release in cinemas, with a number of critics slamming the "fan-service" movie for mostly no reason other than it set out please fans of the franchise. However, blowing away opening weekend box office predictions, it seems that the appetite for a return to the 80's franchise is just what post-pandemic cinemas needed and rather than busting ghosts the movie managed to bust a few naysayers with over $60 million taken worldwide. So does that mean we will be seeing more from the franchise in future? Read on with the knowledge of BIG SPOILERS.
The story of Ghostbusters: Afterlife provides a two part film. The first half acts as an unravelling mystery with the focus on the grandchildren of original Ghostbuster Egon Spengler having a snoop around his old farm property, discovering various familiar-to-audiences items from Ghostbusters history such as the PKE Meter, Proton Pack and Ecto1. It then gives way to a second half that leans heavily on the storyline of the original 1984 movie, with terror dogs creating a Keymaster and Gatekeeper, Gozer being released from her fiery hell, and everything culminating with a rematch between the demon and the original Ghostbusters, who are helped out by Egon's grandchildren and the spirit of their old partner himself. In the post credits scenes, Winston Zeddmore is seen returning Ecto1 to the familiar surroundings of the Fire House after declaring that he will always be a Ghostbuster, and we are left with a flashing red light on the containment unit suggesting that there is still more to come.
The first stumbling block for any potential sequel is the box office receipts. While experts originally predicted the film would make around $40 million worldwide on opening weekend, which would have put it behind the much maligned 2016 Ghostbusters movie, the film surprised everyone by bringing in $60 million, and considering we are in the current post-pandemic environment we are, it is a fair assumption that this would have been even higher in other circumstances. How that stacks up over the coming weeks in comparison to the rest of the years offerings we will see in time.
Ghostbusters: Afterlife is currently sitting on a Rotten Tomatoes critics score of 67%, which like the predicted box office doesn't paint the greatest picture, but in comparison, the film has an audience score of a huge 95%, which leads to probably one of the biggest wake up calls for critics in recent memory. Whilst many of the critical reviews cite the "excessive fan-service" for their lowly marks, audiences are clearly flocking to cinemas for exactly that fan service and the nostalgia of the 80s which is currently one of the strongest pulls in entertainment.
Fans who grew up with the Ghostbusters movies have waited over 30 years to see these exact actors return and having them once again face off against their original nemesis – who let's be fair copped out a little in the original to allow a certain Mr. Stay Puft to run amok – in an ultimate showdown is exactly what this film needed to deliver. Are there plot holes in the movie? Yes. Does it reuse the plot of the original movie? Yes. Does any of that really matter in the grand scheme of things? Not in the slightest. The moment you hear a voice shout the words "Hey Flat-top", questions like how did the original Ghostbusters have Proton Packs if Egon took all of their equipment years ago and what made Ray take them out there in the first place based on one phone call, really don't matter at all.
Movies are about giving audiences a couple of hours of escapism, and some of the greatest moments of that were seen in the 1980s. Ghostbusters: Afterlife is made for the fans, and will potentially give others the push to go and hunt down the original movies to see where it all began. As well as tapping into the Stranger Things vibe of being mostly, and quite ably, led by a group of children, which in itself harks back to the likes of Stand By Me and The Goonies, Ghostbusters: Afterlife delivers that in the fun way of Saturday morning cartoons, with logic playing second to those moments you wait to see and getting the payoff from them. It's scary, it's funny – in the subtle and sarcastic way of the original and not through heavy handed jokes and slapstick – and it has a huge amount of heart that has left audiences laughing and crying, just like cinema should.
So where does that leave the potential sequel? It is hard to say. The film has done what it needed to, giving audiences the original – and only – Ghostbusters back in action for a short time, but can they capture the same magic now that initial return has been covered? The Reitmans have a good grasp on the overall feel and style of the franchise, and there have been very few movies in recent memories that have been so close to the style and feel of an 80s movie as Ghostbusters: Afterlife, with others being too keen to change and modernize what doesn't need to be updated.
If anyone can put together a story that will keep those nostalgic feelings intact, then a sequel could well be possible, but with the original actors Bill Murray, Dan Aykroyd and Ernie Hudson all beyond their best when it comes to big grueling action-packed shooting schedules, the real question is whether time has run out for another outing. That could lead itself to a sequel primarily dealing with the passing of the baton from old Ghostbusters to new, as has been hinted at for a number of years, long before even the 2016 movie, but in the end is something only time will tell. For now though, Ghostbusters: Afterlife has delivered a new chapter in the franchise that no one really ever expected to see, and even if we don't get a sequel, we will always have that.
DC's Dead Boy Detectives TV Show Recasts Ghostly Doom Patrol Pair on HBO Max
After appearing in Doom Patrol, the Dead Boy Detectives are getting their own HBO Max series with recast leads.
Read Next
About The Author