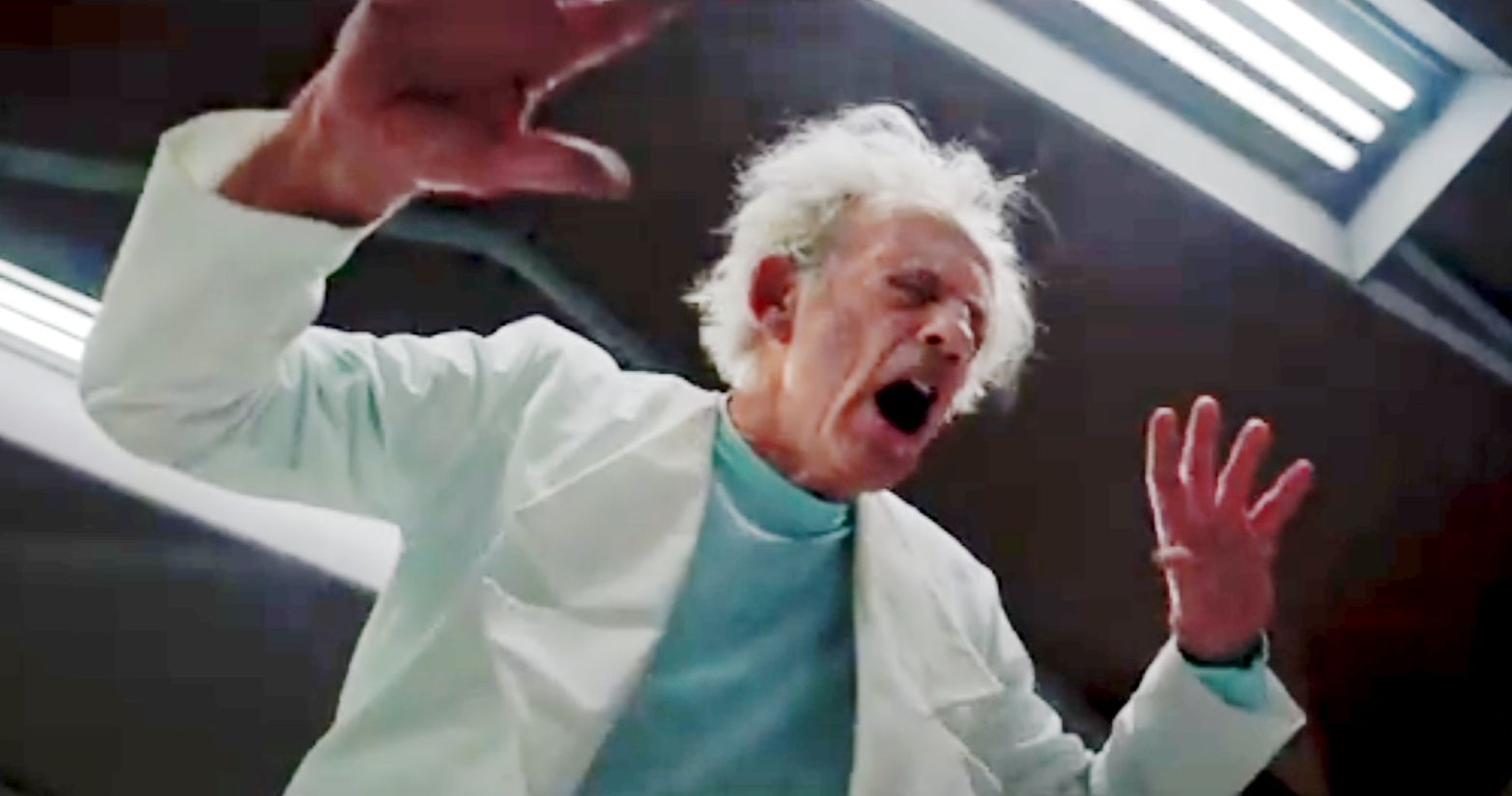 It could just be a matter of time before Rick and Morty meet the very characters which inspired them. Developed by Justin Roiland and Dan Harmon, Rick and Morty was originally conceived as a direct spoof of Back to the Future with its main characters serving as parodies of Christopher Lloyd's Doc Brown and Michael J. Fox's Marty McFly.
This year, the Rick and Morty team paid tribute to Lloyd and the way he influenced the series with his portrayal as Doc Brown. The veteran actor was brought in to play a live-action Rick Sanchez in a series of promos alongside Jaeden Martell as Morty. The promos were highly amusing, albeit very brief, and many fans had even started calling for the two to star in a feature length adaptation.
Recently speaking with The Illuminerdi, Christopher Lloyd addressed the promos along with the possibility of a Back to the Future crossover. Concerning the live-action promos, Lloyd seemed to tease that they could lead to something else, though he's not saying much more than that for now. The actor also shares his idea on how to bring Doc and Marty into Rick and Morty for a special appearance, and he for one thinks it would be "fun" to see all four sharing a scene together.
"They called me up, and I obliged. We'll see where it goes. I think it's a great idea… I thought that maybe if Rick and Morty are out there in space somewhere and accidentally, Doc and Marty are out there, and they can somehow meet. That could be a good story. Where does it go from there? You know, because I think those are four characters that would be fun to watch. Good writing."
In an animated world, the door is also open for Michael J. Fox to return to voice Marty for the special appearance. Fox might have announced his retirement from acting, but perhaps one more voice role as Marty isn't outside the realm of possibility. In the past, he's been open to revisiting the character, as seen in a Jimmy Kimmel Live sketch in 2015 with Christopher Lloyd with the two in character. Fox also voiced an ancestor of Marty in the excellent video game Back to the Future: The Game, which also features the voice of Lloyd and serves as a sequel to the original movie trilogy.
Rick and Morty is one of today's most popular animated programs, consistently pulling in very strong reviews throughout the course of its five seasons. Season 5 premiered on Adult Swim earlier this year following a prior deal with the network for 70 more episodes, and with season 5 consisting of just ten, that should give you an idea of how long the show will be around.
Christopher Lloyd also continues to act frequently, which includes a recent role in the action flick Nobody alongside Better Call Saul star Bob Odenkirk. Lloyd also features in George Clooney's upcoming movie The Tender Bar, which also stars Ben Affleck, Tye Sheridan, and Lily Rabe, and is due for a release on Prime Video in January. This news comes to us from The Illuminerdi.
Hawkeye is Set Two Years After Avengers: Endgame
Hawkeye director Rhys Thomas reveals the setting of the Disney+ series, and it will be the latest entry in the MCU's timeline.  
Read Next
About The Author