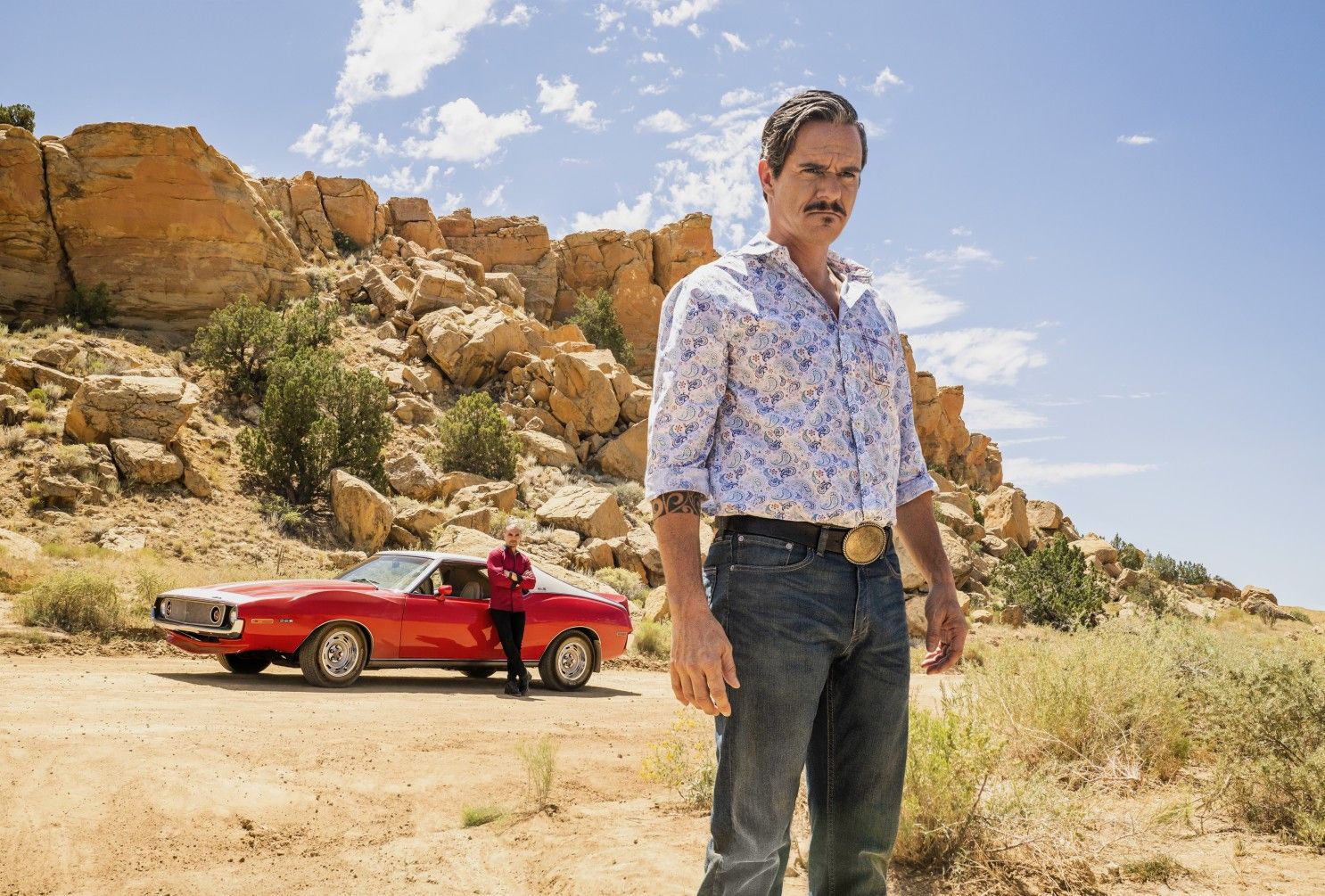 Tony Dalton, who is currently making waves playing Jack Duquesne/Swordsman in Hawkeye, got his breakthrough role playing Lalo Salamanca in AMC's Better Call Saul. First introduced in season 4 as a recurring character, Lalo quickly became one of the main antagonists in the show. The sixth and final season of Better Call Saul has had a tumultuous production owing to the Covid-19 pandemic and Bob Odenkirk's on-set collapse. However, Better Call Saul season 6 is nearing filming completion, and fans can't wait for what will likely be an explosive final season.
Tony Dalton sat down with Collider recently to talk about his role as Swordsman in the Disney+ series Hawkeye. He was grateful for the opportunity and loved being a part of the MCU, revealing his intense preparation to play the character. Dalton also talked about Better Call Saul but didn't reveal much. The entire cast and crew of Better Call Saul have been tight-lipped about the upcoming season, and Dalton was no different. When asked what it was like to read the scripts, Dalton enthusiastically replied,
"It was very exciting. Very very exciting. You have no idea what's going to happen. It's out of control what these guys wrote. Out of control."
After the mind-blowing season 5 finale, Dalton's Lalo Salamanca seemed to have figured out who betrayed him and will seek vengeance. As for Bob Odenkirk's titular crooked lawyer, Saul Goodman (formerly Jimmy McGill), he dodged a bullet when Kim Wexler (Rhea Seehorn) managed to allay Lalo's suspicions about him. Wexler was treading down a dark path in season 5 herself, leaving fans anxious about her fate. Another fan-favorite character that fans think won't make it out alive is Nacho Varga, played by Michael Mando. His fate was left hanging in the balance after the failed assassination attempt on Lalo by Gus Fring.
Who survives? Who will break bad? We'll soon find out when Better Call Saul season 6 premieres next year. The extended 13-episode final season will be split into two parts, the same as the final season of its predecessor, Breaking Bad. Better Call Saul season 6 part one is expected to premiere in early 2022, and part two in the summer. Other returning characters in the show include Giancarlo Esposito as the cunning drug kingpin Gustavo Fring, Jonathan Banks as former bent cop Mike Ehrmantraut and Patrick Fabian as Howard Hamlin.
Only two episodes in and Tony Dalton has already impressed fans with his take on Swordsman in Hawkeye. The character was a mentor to Clint Barton in the comics and has been a superhero as well. It remains to be seen if Hawkeye will establish Jack Duquesne as someone from Barton's past. Dalton talked to ScreenRant about how he took inspiration from Errol Flynn to play Swordsman.
"The character of Jacques Duquesne, when he was first written in the comic books, is based on Errol Flynn. That was a big plus for me because there you can just really grab a lot of material from his movies and everything and get an essence of this sort of swashbuckler, dandy, dapper sort of fella. And, I think that's something that I wanted to make sure that I captured into the character because everything else is different from what it was in the comic books. But just sort of this Errol Flynn vibe kind of thing."
Created by Jonathan Igla (Mad Men) and starring Jeremy Renner, Hailee Steinfeld, Vera Farmiga, Alaqua Cox, and Brian D'Arcy, Hawkeye debuted the first two episodes on Disney+ on November 24. The remaining four episodes will premiere weekly, concluding on December 22.
This news originated at Collider.
Jurassic Park Trio Are a Huge Part of Jurassic World: Dominion
Director Colin Trevorrow assures that Alan Grant, Ellie Sattler, and Ian Malcolm will play a major role in Jurassic World: Dominion.
Read Next
About The Author