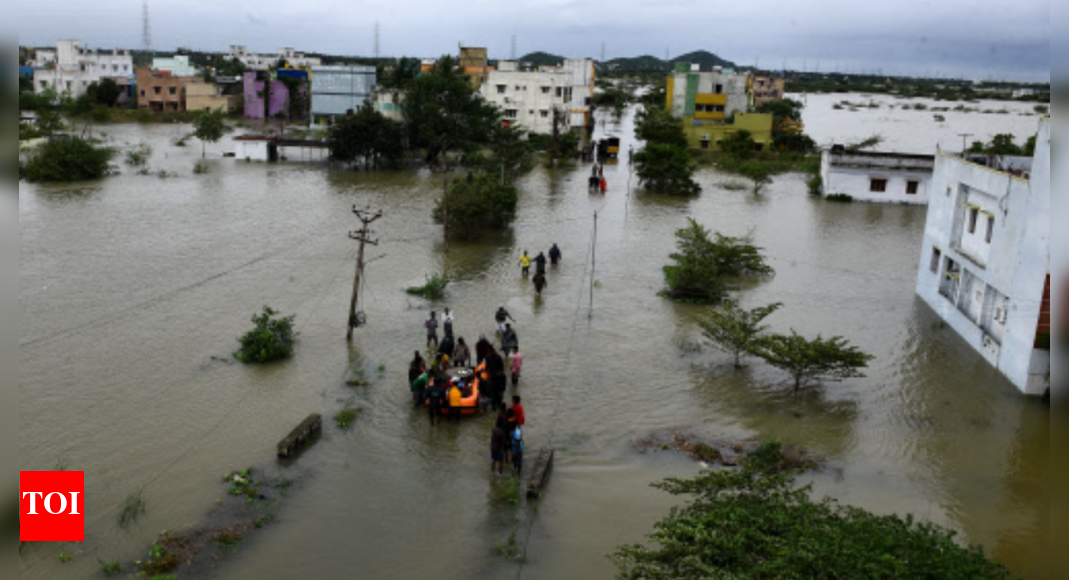 CHENNAI
: The recent heavy rain left the city in a mess, with roads flooded, canals overflowing and people in newly formed neighbourhoods stranded. Monday was no different. While everyone blames urban local bodies, experts say it was the failure of
Chennai
Metropolitan Development Authority (
CMDA
) which oversaw the city's expansion. TOI shows how the plan authority could have detected and rectified the flaws.
Couldn't stop reclassification of water bodies for development
In the past four years, the CMDA, which controls 1,189 sq km, has allowed nine applications to reclassify water bodies including catchment areas in Avadi and
Red Hills
over a 79-acre area that is an important water supply source. Despite stiff opposition from experts, such reclassification continues and impacts during the monsoon when rainwater reclaims lake spaces and floods neighbourhoods. Mudichur, OMR and
Velachery
are examples of such reclassification
Didn't rein in local bodies that regularise encroachments
When
S Murugaiyyan
moved into
Thiruninravur
almost 40 years ago, the area had five water bodies. "Only two survive. The rest have turned into neighbourhoods," he said. Similar is the situation in areas where the local body has allowed to build houses ignoring the nature of the land. And the CMDA has remained a mute spectator. Now, at least 750 water bodies within a 40km radius are under threat due to 'development'. The CMDA has the authority to revoke the powers of the local bodies to issue planning permission but rarely uses it.
Local bodies did not follow CMDA's plan
The CMDA's 600-page three-volume second master plan details the way to develop the city and its suburbs, but the authority seems to have abdicated its role to ensure local bodies stick to it. D S Sivasamy, former additional director of municipal administration, said the CMDA should take control of the master plan and monitor its implementation. "It is the duty of the CMDA to specify where a water body is, where there will be water stagnation. But it has reduced itself to a body that issues building permissions."Former professor of urban engineering at
Anna University
, K P Subramanian, says the CMDA should involve agencies such as Metrowater, TNHB and highways so that each perceives the master plan as its own.
Couldn't check violations due to inadequate manpower
The CMDA's enforcement wing that cracks down on building violations has only three planners and has little scope to effectively check violations in a metropolitan area spanning four districts. Denying allegations of the agency's failure in preventing floods, a senior CMDA official said it will eliminate the flaws.
Failed to protect lakes, canals
The CMDA, which is meant to preserving water bodies, has allowed MRTS line along Buckingham Canal and TNHB apartments on
Mogappair Lake
titled Eri scheme, ignoring the fact that lakes are crucial for the ecology. The agency has mapped water bodies and a marshland, but has not done anything to guide local bodies to preserve them. The most recent example is Port-Maduravoyal expressway whose alignment extends along the Cooum river. When contacted, CMDA sources said four proposals to convert water bodies were rejected in the past 6 months.