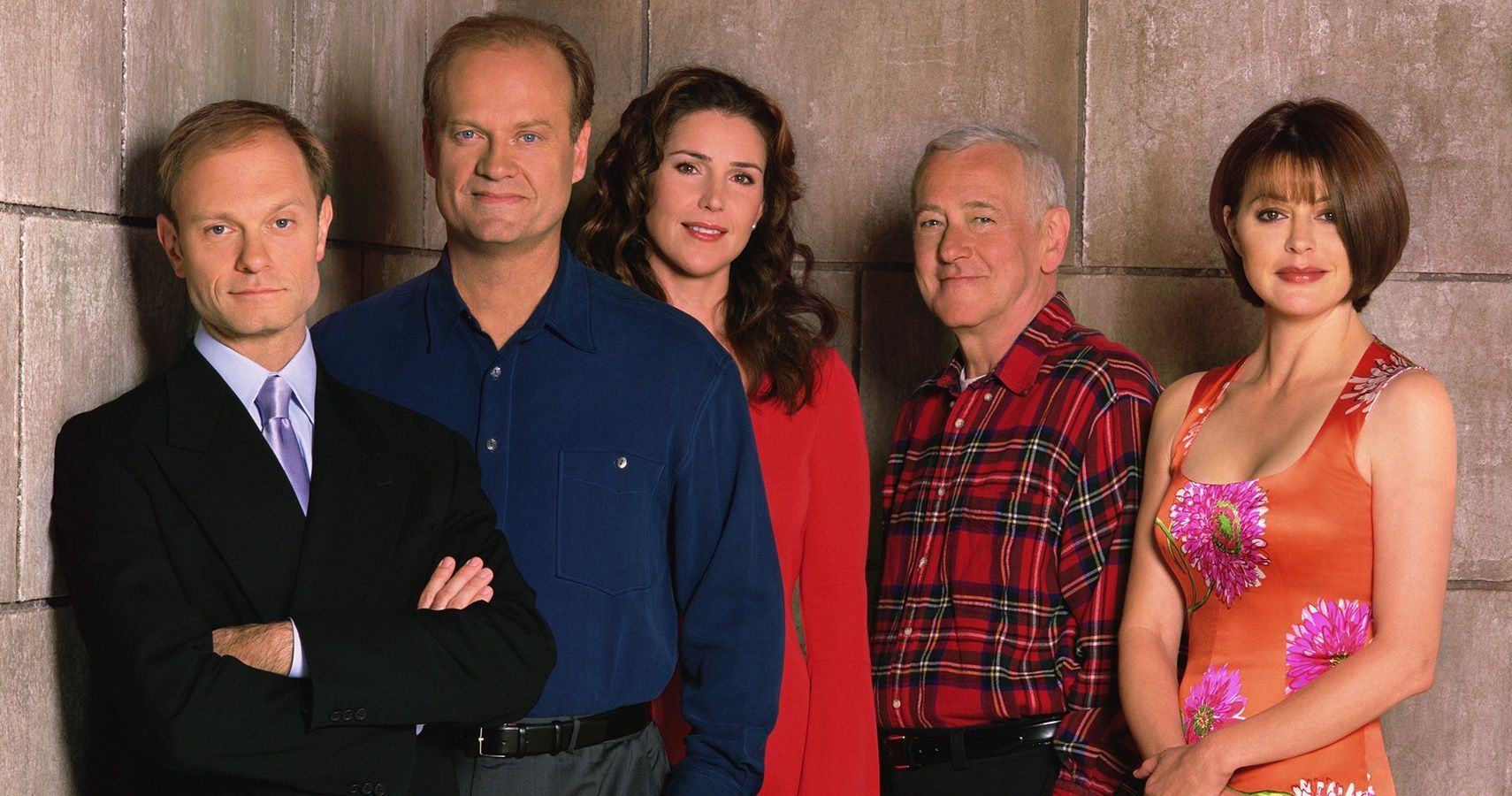 Kelsey Grammer continues to press on with the potential revival of Frasier, with the actor providing a somewhat vague but nonetheless promising update on the project. While it has been previously reported that the revival/reboot is indeed a go at Paramount+, Grammer's insight sounds a little less confident, with the Cheers and Frasier star revealing that they are still "kicking it around."
"We are kicking it around. We have a couple of ideas and we're pretty happy with where we are right now. We're not so sure if everybody's coming back, but I know there's a third act for Frasier. Certainly he's got a lot of things to still explore."
As well as revealing that the studio (and presumably himself) is "pretty happy" with the idea that has been touted for Frasier's long-awaited third act, Grammer still is not sure who, if any, of the original cast will return alongside him. Previously, Grammer revealed a vastly more promising update in terms of the potential return of his co-stars saying, "We're doing our best to woo all the actors back and we have a couple things in mind there and I think it's looking pretty good!" More specifically, Grammer teased a comeback for Bebe Neuwirth's fan-favorite character, Lilith Sternin, Frasier's expertly deadpan ex-wife. "I'm sure if Bebe wants to grace us with her presence, we'd love to have her do a couple shows, I'm sure," the actor said.
Related: Frasier: The Complete Ninth Season DVD Review
Created as a spin-off of NBC's hugely popular sitcom, Cheers, Frasier continues the story of psychiatrist Frasier Crane as he returns to his hometown of Seattle and starts building a new life as a radio show host. Much of the show's charm comes from the relationship between Frasier and his brother Niles, played by David Hyde Pierce, a fellow psychiatrist, as well as his father Martin, played by John Mahoney, a retired police officer. Frasier came to an end with season 11 back in 2004, with the character leaving for Chicago in hopes of reuniting with Charlotte, the woman he has fallen in love with. During its run, Frasier was critically acclaimed, with the show itself and the cast winning thirty-seven Primetime Emmy Awards and winning the Primetime Emmy Award for Outstanding Comedy Series for five consecutive years.
Though not much has been revealed about the "ideas" that have been suggested to continue the adventures of Frasier Crane, Kelsey Grammer has since stated that the blustery psychiatrist will find some luck in the finance department. "He thinks he's gonna go off and do one thing, and sure enough, his life takes him in another direction," Grammer said. "And he ends up rich beyond his dreams."
Grammer has also revealed that the revival will tackle the passing of Frasier star John Mahoney, who played the title characters cantankerous-yet-endearing father, Martin, with such aplomb that he quickly became a favorite. "We intend to deal with that some in the first episode," Grammer explained.
The Frasier revival does not yet have a release date and is not expected to get underway until 2022.
This comes to us from NJ.
Sandra Bullock Responds To Spider-Man Casting Rumors, Is She Madame Web?
The internet whispers that Sandra Bullock is being sought to play Madame Web in Sony's Spider-Man Universe have been addressed by the actress
Read Next
About The Author