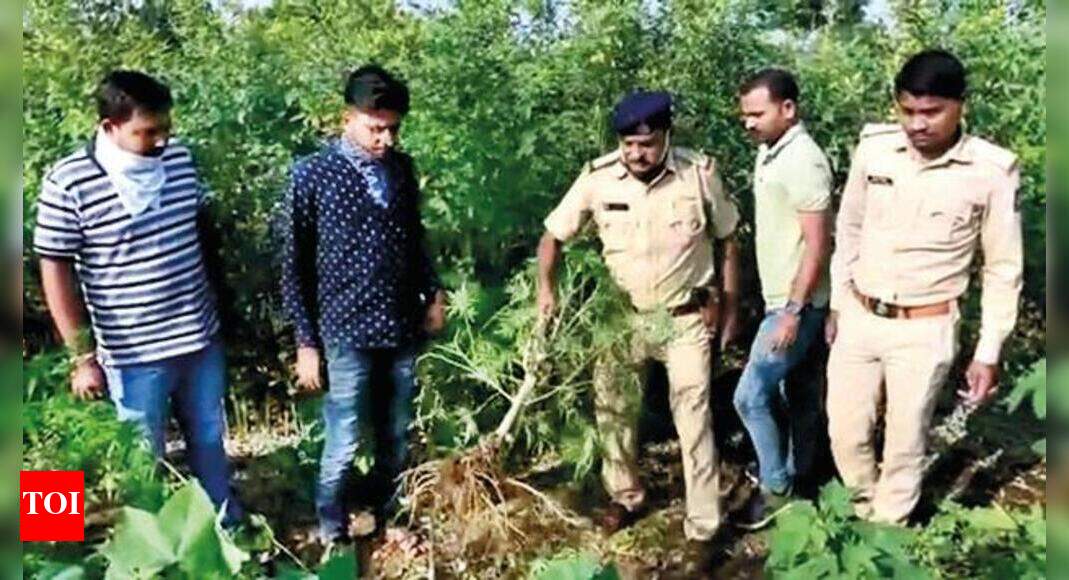 VADODARA: Farms in interior villages of
Chhota Udepur
would grow paddy and millets, the staple meal of tribals.
However, these are now surreptitiously getting replaced by
marijuana
, a cheap contraband, often connected with spirituality. Although the tribal population may not be addicts in any form, the lure of moolah attached to these easily available psychotropic substances in urban centres lure the farmers to earn some quick bucks on the side.
Illegal farming of marijuana has, however, turned into a pestilence of sorts in the tribal-dominated district throwing the police to literally sniff around fields to catch such wilful tillers. The local police can measure their huge success by seizing over 2,822kg marijuana plants from different villages in just 11 months.
While police value one kilogramme of marijuana at Rs 10,000, they suspect that the farmers are getting paid much more than that. So far, cops have arrested 10 farmers for growing the banned crop at their farms or backyards of their homes, but those providing the tillers with the seeds and buying the fully grown plants later are yet out of law's reach.
Interestingly, cops are perplexed by the farmers' explanations. A police official disclosed that a farmer revealed that godmen living ascetic lives supply them with the seeds and are even the buyers of the final products after some months.
"Earlier it did not seem convincing, but as we started catching these farmers, we kept hearing the same explanation from each one of them. And, their versions didn't smack of being 'tutored statements' as these farmers don't know one another and also live in different villages," said inspector J P Mewada of special operations group of Chhota Udepur police.
Looking at the rapid rise in marijuana cultivation, the police, including senior officials, have now resorted to educating the tillers on the menace. They hold awareness drives and village-level meetings regularly. "We make these illiterate farmers understand the severity of the crime. We explain that if they get lured to grow the plant, they will be arrested and getting a bail will also be very difficult," said Dharmendra Sharma, superintendent of Chhota Udepur police.
Sharma added that they have identified a couple of seed providers and will track them down soon.
Earlier this year in another big seizure, Amreli police unearthed an opium cultivation racket in Babra taluka. Cops had seized 339.5kg of opium from three different farms in May and booked the farmers under the Narcotic Drugs and Psychotropic Substances Act.