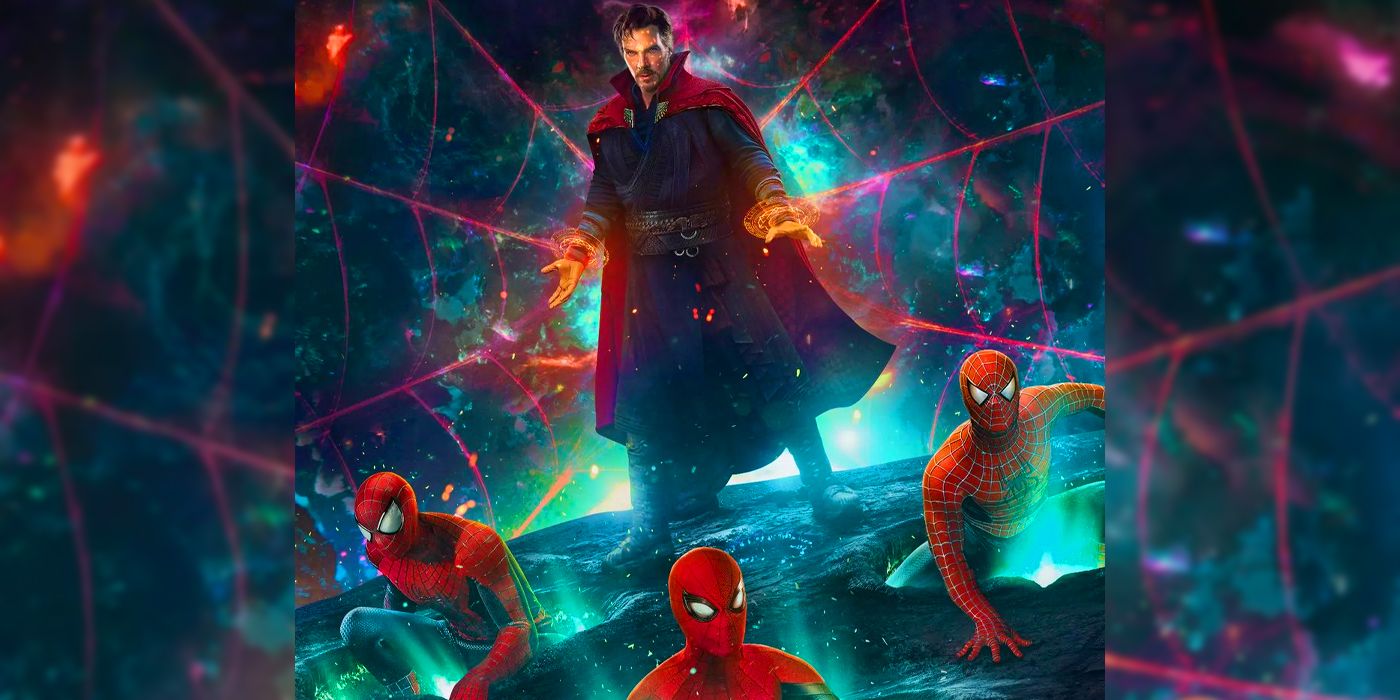 A piece of fan art for Spider-Man: No Way Home shows Doctor Strange conjuring Tobey Maguire, Andrew Garfield, and Tom Holland's Spideys.
A new piece of fan art for Spider-Man: No Way Home shows Doctor Strange conjuring Tobey Maguire, Andrew Garfield, and Tom Holland's characters. Benedict Cumberbatch's Doctor Strange was first introduced in his 2016 solo film and has since become a main character in the MCU. Doctor Strange was believed to be the one to fix the Sacred Timeline after Sylvie kills He Who Remains. However, the Spider-Man: No Way Home trailers show that Strange will have his hands full with Peter Parker after a spell brings in villains from other universes. 
While it's been known for a while that Spider-Man: No Way Home will bring in multiple villains from past Spider-Man movies, the big question is still if Maguire and Garfield will make an appearance. Reports on their return surfaced after Jamie Foxx was cast as Electro and Alfred Molina as Doc Ock, yet Marvel and the actors have consistently denied that they will appear in the sequel. A supposedly leaked set video made its way online a few months ago of Garfield back in his Spidey suit, but Disney of course wouldn't confirm whether it was real or not. At this point, it seems likely that fans won't get to find out if the veteran Spider-Man actors are returning until Spider-Man: No Way Home hits theaters this December. 
Related: Spider-Man: No Way Home Trailer 2 Breakdown – 16 Reveals & Secrets
But that hasn't stopped artists like spdrmnkyxxiii from imagining what the crossover could look like. The artwork shows Doctor Strange opening three portals as Garfield, Holland, and Maguire's Spider-Man characters crawl into the same universe. The artist's colorful piece can be seen in the post below:
Even though there hasn't been any official confirmation of Maguire and Garfield's return, the newest Spider-Man: No Way Home trailer supported theories that the actors are indeed returning. One of the biggest clues came when Holland's Spider-Man leaped through the air at Sandman, Electro, and the Lizard. Electro and Lizard don't appear to be jumping toward anything, and in the Brazilian trailer, Lizard is punched by an invisible figure. This, along with MJ falling being reminiscent of Gwen Stacy's death in The Amazing Spider-Man 2, has led many to believe Marvel simply edited Maguire and Garfield out of the trailer to keep their roles a secret. 
Spider-Man: No Way Home is clearly one of the most anticipated titles of the year and in MCU's Phase 4. Marvel has taken their time marketing the movie and just released the first official poster and second trailer this month. The marketing push will likely pick up now that the film is only a month away. That being said, Maguire and Garfield likely won't appear in any promotional material until after the movie is released. Disney has done a great job of building excitement for Spider-Man: No Way Home by including villains from Sam Raimi and Marc Webb's movies. So even though Garfield and Maguire haven't been revealed just yet, Disney's marketing team has still almost guaranteed a solid box office performance for the sequel. 
More: Maguire & Garfield Edited Out Of No Way Home Trailer? All Shots Explained
Source: spdrmnkyxxiii
Spider-Man: No Way Home (2021)Release date: Dec 17, 2021
Doctor Strange in the Multiverse of Madness (2022)Release date: May 06, 2022
Thor: Love and Thunder (2022)Release date: Jul 08, 2022
Black Panther: Wakanda Forever/Black Panther 2 (2022)Release date: Nov 11, 2022
The Marvels/Captain Marvel 2 (2023)Release date: Feb 17, 2023
Guardians of the Galaxy Vol. 3 (2023)Release date: May 05, 2023
Ant-Man and the Wasp: Quantumania (2023)Release date: Jul 28, 2023
Zoë Kravitz Praises Pattinson's Out of This World Batman Transformation
About The Author