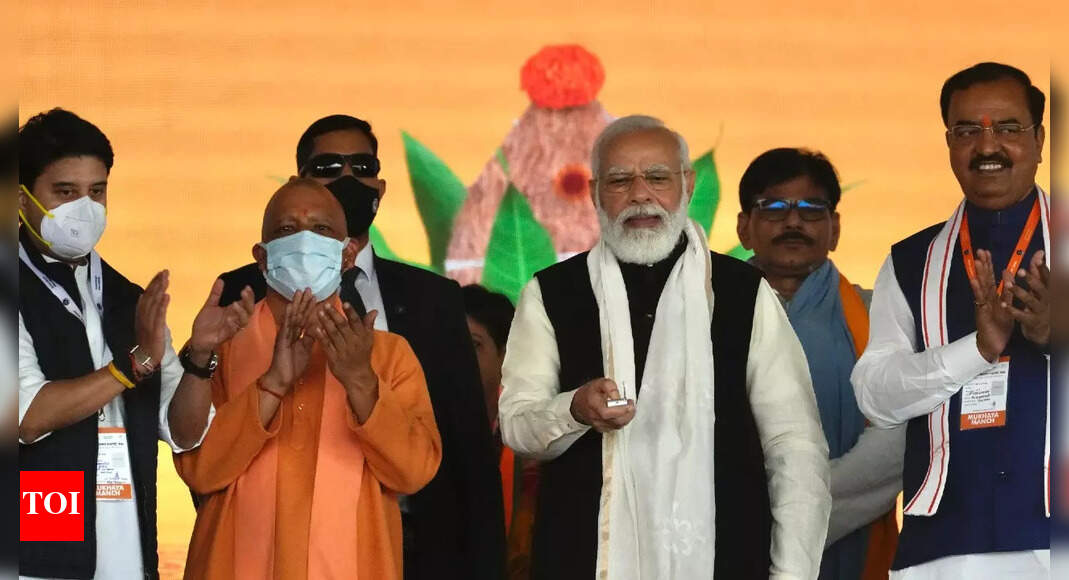 NEW DELHI: Prime Minister
Narendra Modi
on Thursday laid the foundation stone for
Noida International Airport
(NIA), paving the way for Delhi-NCR to become the first megapolis in India to have two civilian airports for commercial flights by October 2024. The
airport at Jewar
— which will ensure '
uttam suvidha
' in Uttar Pradesh — will begin its journey with one runway and a terminal to handle 1.2 crore passengers annually at an investment of Rs 5,730 crore.
PM Modi said NIA will be 'logistics gateway' to north India with a hub for multimodal transport. "Crores of people will benefit from this airport that was first thought of by the BJP government two decades back."
"After that, this project was almost shelved by subsequent governments both in Lucknow and Delhi. We could have announced it in 2017 but wanted to make sure everything, like funding, is arranged for this project so that it does not get stuck. If the airport is delayed now, there is provision for stiff fines (for the developer). Now in three years the airport will be ready and change the lives of everyone in the region. It will be a massive boost to the economy in all spheres like agriculture, manufacturing, services and for all walks of society from small farmers to industries here," the PM said.
Three subsequent phases of expansion by winning bidder Zurich Airport International over its 40-year lease period will see NIA's two runways and as many terminals handle 7 crore passengers annually —
Delhi's IGI Airport
's current capacity and traffic in pre-Covid 2019.
The UP government wants to have five or more runways at this airport. If that happens, it could become India's biggest airport in the decades to come. Union civil aviationminister
Jyotiraditya Scindia
said NIA could eventually be bigger than Delhi's IGI Airport (which will soon have 4 runways) and be India's biggest aviation hub.
For seamless connectivity to other states and IGI Airport, NIA will be linked by a number of expressways, including the upcoming
Delhi-Mumbai expressway
, metro, rapid rail and railway. "For a landlocked state like UP, this airport will play the role of a port and ensure farmers producing perishable crops and manufacturers of unique items in region — like brassware of Moradabad; petha and footwear of Agra; furniture of Saharanpur— will get quick access to the world market for their products," Modi said, while promising creation of lakhs of jobs for locals right from the stage when the airport ie being built to subsequently operating it and the entire ecosystem that will be built around it.
The upcoming Jewar airport will have a maintenance, repair and overhaul (MRO) facility spread over 40 acres. "Today almost 85% of aircraft with Indian carriers go abroad for MRO service, spending about Rs 15,000 crore annually. This Rs 30,000-crore project will change that situation and aircraft will fly in here from abroad for availing these services," the PM said.
UP now has nine operational airports. This includes three international airports (Lucknow, Varanasi and Kushinagar), a number that will rise to five once Ayodhya and NIA are ready. Eight more are in the works. "A few years back, UP was aerially linked to 25 cities and now that number has risen to 80. India overall had 74 operational airports in the first seven decades of independence. PM Modi's government has made 62 more airports operational nd now that number is up to 136," Scindia said.
While the "digital" Jewar airport is beginning to take shape, IGIA has entered its penultimate phase of development where it is getting a fourth runway, an elevated taxiway — a first for India — and the existing terminal 1 and 3 are being expanded. The final phase will see the 1982-era T2 making way for a new terminal that will take IGIA to its peak capacity of 10-12 crore passengers annually just before 2030.
The growing Noida airport and soon-to-be-saturated IGIA will give air travellers a choice that their counterparts abroad in New York, Paris, London and Tokyo have had for decades in terms of which airpot do they want to fly in and out of, depending on convenient location and flight timings.
Yamuna International Airport Pvt Ltd (YIAPL) CMD Daniel Bircher said: "The ground-breaking ceremony is a key milestone, and the airport will act as a growth catalyst for not just the state, but the country. As the (government) turns its focus towards making India a global aviation maintenance hub, NIA will aid the development of cargo and maintenance, repair and overhaul (MRO) cluster in the NCR region, making flying more affordable. We are a committed partner for India's growth, and we see tremendous opportunity to invest and support India's national agenda through infrastructural development and job creation."
YIAPL CEO Christoph Schnellmann said: "The strong recovery in the aviation sector along with the government's initiative to develop and expand airports will not only help meet the growing demand for travel but also encourage higher connectivity between tier 2 and 3 cities in the country. NIA will connect western UP to other cities in India and the world. This world class airport will set a benchmark in aviation infrastructure and development of multiple-airport systems in India."
YIAPL claims NIA will be the first airport in its class to accomplish net zero emissions, paving the way for sustainable aviation.