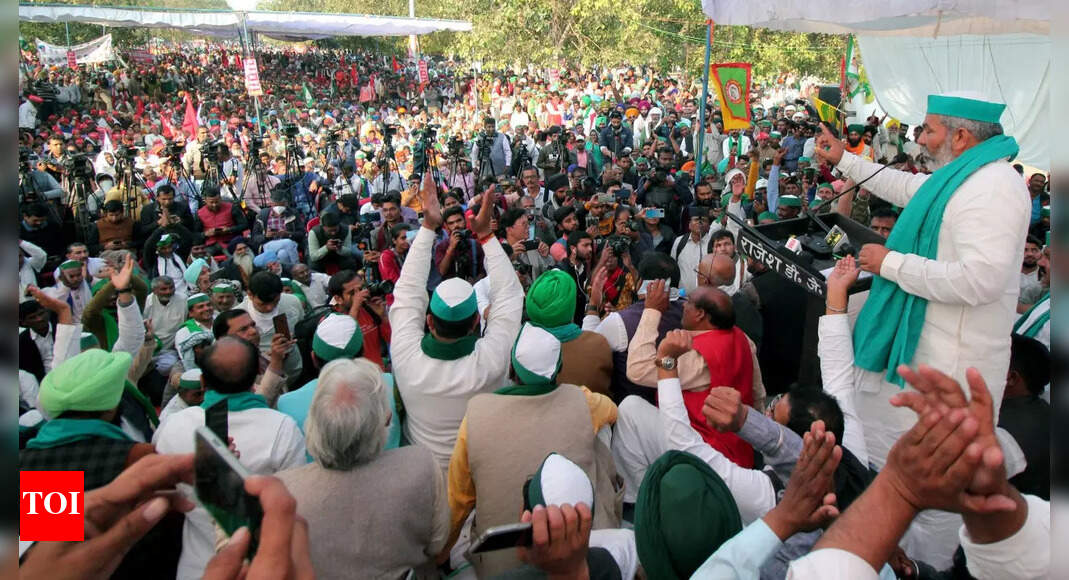 NEW DELHI: The repeal of farm laws and demands for a legal guarantee for a minimum support price for crops is expected to figure at discussions at the all- party meeting ahead of the winter session of
Parliament
even as the government is expected to suggest that all issues, including those raised by the agitating farm unions, can be taken up by the committee proposed by Prime Minister
Narendra Modi
.
As is the norm, the Prime Minister is expected to participate in the all-party meeting, convened by the parliamentary affairs minister, on Sunday ahead of the winter session beginning on November 29. With the Samyukta Kisan Morcha (SKM) writing to Modi on six demands apart from repeal of farm laws, the government is expected to suggest to the unions that they join the discussion proposed by the Prime Minister.
Floor leaders of all the political parties from both Houses will participate and underline issues they consider important. The meeting will be preceded by a more informal interaction hosted by
Lok Sabha
Speaker
Om Birla
. The meeting apart, the stage may be set for some sharp discussion in Parliament as the government moves to repeal the farm laws.
In similar fashion, Rajya Sabha Chairman
M Venkaiah Naidu
has called a meeting of the floor leaders of the Upper House. With the government and opposition preparing to press their points on the repeal of the laws, both sides are likely to hold meetings to discuss floor coordination. BJP will hold its parliamentary executive meeting, followed by the meeting of the NDA floor leaders.
The Cabinet is likely to approve repeal of the three farm laws on Wednesday. On the occasion of Guru Purab last
Friday
, Modi addressed the Nation and announced repeal of the three farm laws, saying he was apologising to the nation that he had not been able to convince a section of farmers about the benefits of the legislations even as the agitating farm union leaders are now demanding to call off the agitation only when the government gives legal guarantee on MSP.