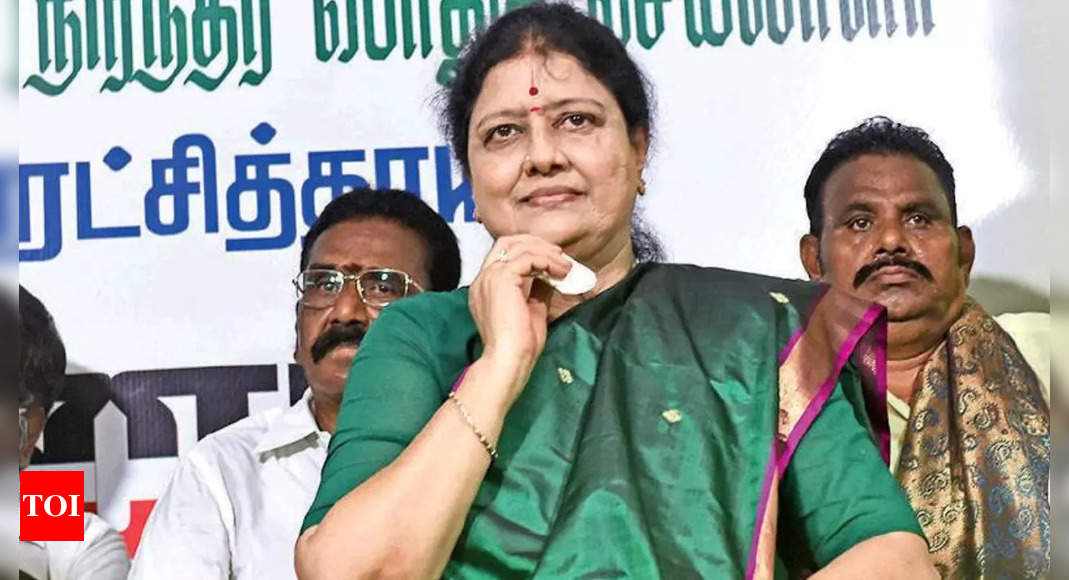 CHENNAI
: Heated exchanges over re-induction of V K
Sasikala
marred a high-level meeting of AIADMK's headquarters office-bearers and district secretaries at the party headquarters in Chennai on Wednesday.
Senior leader and former minister C Ve
Shanmugam
and several functionaries objected to party minority wing secretary Anwhar Raajhaa raising the issue. Raajhaa had recently called for taking Sasikala back into the party.
AIADMK coordinator O
Panneerselvam
said he was against the dominance of Sasikala family and brought up his 2017 meeting with T T V Dhinakaran, saying he did so in the "interests of the party". For his part, joint coordinator Edappadi K Palaniswami said he had kept his part of the commitment by severing all links with Sasikala and her family.
The meeting was the first after Panneerselvam recently told reporters in Madurai that the party's headquarters office-bearers would discuss and decide on Sasikala's
reinduction
. "Assuming that Raajhaa would raise the issue at the meeting, several functionaries rose from their seats opposing any
talk
about Sasikala. Amid protests, Shanmugam demanded to know why Raajhaa addressed
EPS
disrespectfully and made him apologise," a senior leader present at the meeting said.
Panneerselvam hit out at former minister
D Jayakumar
and senior functionary Aadi Rajaram, who had criticised him for his remarks on re-induction of Sasikala. "OPS recalled his assertion that the present set-up (coordinator and joint coordinator) would remain intact. He said he waged a dharmayudh against the family when Jayakumar was siding with Sasikala. He said the meeting with Dhinakaran was not for his personal interest but in the interest of the party," another leader said. Panneerselvam tried to set the record straight by saying it was his faction of 11 MLAs that voted in favour of the EPS government to continue, else the DMK would have split the party and assumed charge.
When his turn came, Palaniswami said he had fulfilled all the conditions laid down by OPS for the merger of their two factions, including setting up a steering committee, inquiry commission to probe the death of former general secretary
J Jayalalithaa
and severing links with Sasikala and her clan. Later, when Raajhaa was allowed to speak on local body polls, the leader demanded that the party contest the election alone without alliance partners in tow, without mentioning the BJP. Later, the party announced that the executive committee meeting would be on December 1.