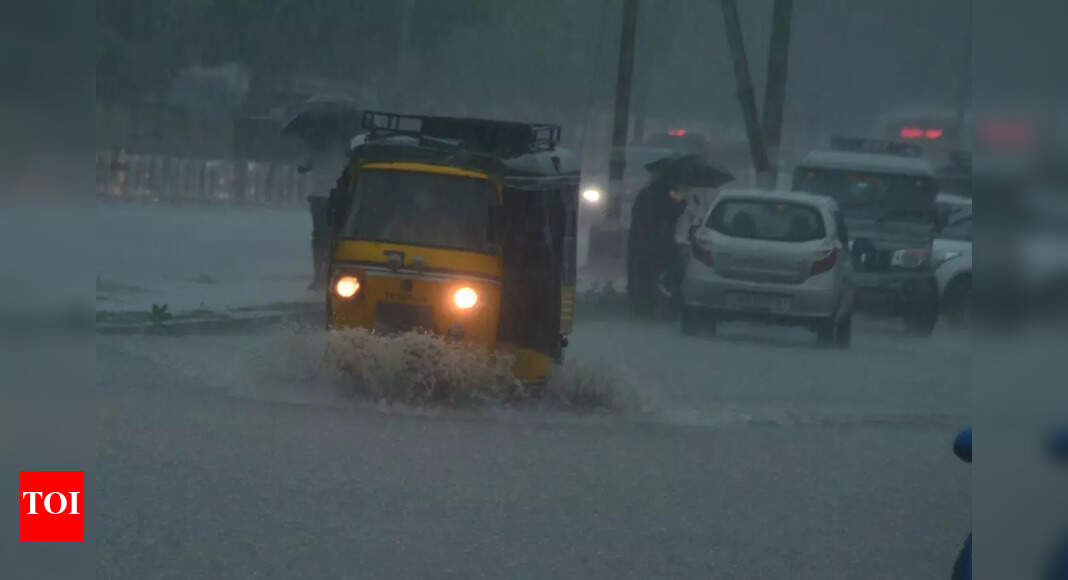 CHENNAI: Tamil Nadu revenue minister
KKSSR Ramachandran
on Friday said 10,503 people have been accommodated in government relief centres in 12 districts, including 620 in five relief centres of the Greater Chennai Corporation, after heavy rain lashed different parts of the state since Thursday morning.
Five deaths were reported — in Ariyalur, Dindigul, Sivaganga and Tiruvannamalai — while 152 cattle died. A total of 681 huts and 120 concrete houses were damaged.
The state has recorded 70% excess rainfall during the northeast monsoon for the period between October 1 and November 26. The rainfall occurred in 37 districts with the state average being 39.34mm.
Tuticorin
district recorded 118.82mm rainfall, the highest for the last 24-hour period ending 6am on Friday. It is followed by
Tirunelveli
(80.08mm), Nagapattinam (76.4mm), Virudhunagar (69.48mm), Perambalur (67.64mm), Sivaganga (65.26mm), Dindigul (63.24mm), Madurai (60.52mm) and Kanyakumari (46.41mm). Krishnagiri recorded the lowest rainfall of 0.40mm.
Extreme heavy rainfall was recorded in three gauging stations in Tuticorin district. Kayalapattinam in the district recorded 306mm, the highest in the state. Tuticorin and Tiruchendur recorded 266.6mm and 248mm, respectively. Very heavy rainfall between 115.6mm and 204.4mm was recorded in eight gauging stations of Nagapattinam, Tuticorin, Thanjavur and Cuddalore districts.
Heavy rainfall between 64.5mm and 115.5mm was recorded in 87 gauging stations across the state.
"Two NDRF teams are stationed in Chengalpet and one team in Kancheepuram district," Ramachandran said.
Major reservoirs continued to receive good inflow with incessant rainfall being reported in the catchment areas. On Friday morning, the discharge from Mettur reservoir was maintained at 24,694 cusecs as the water level continued to remain at full storage capacity.
Bhavanisagar and Amaravathi in the western belt saw release of 2,925 cusecs and 5,033 cusecs respectively.
The state PWD draws a maximum quantity of 2,300 cusecs from Mullperiyar dam through tunnels to
Vaigai
dam, which has already been discharging 5,915 cusecs.