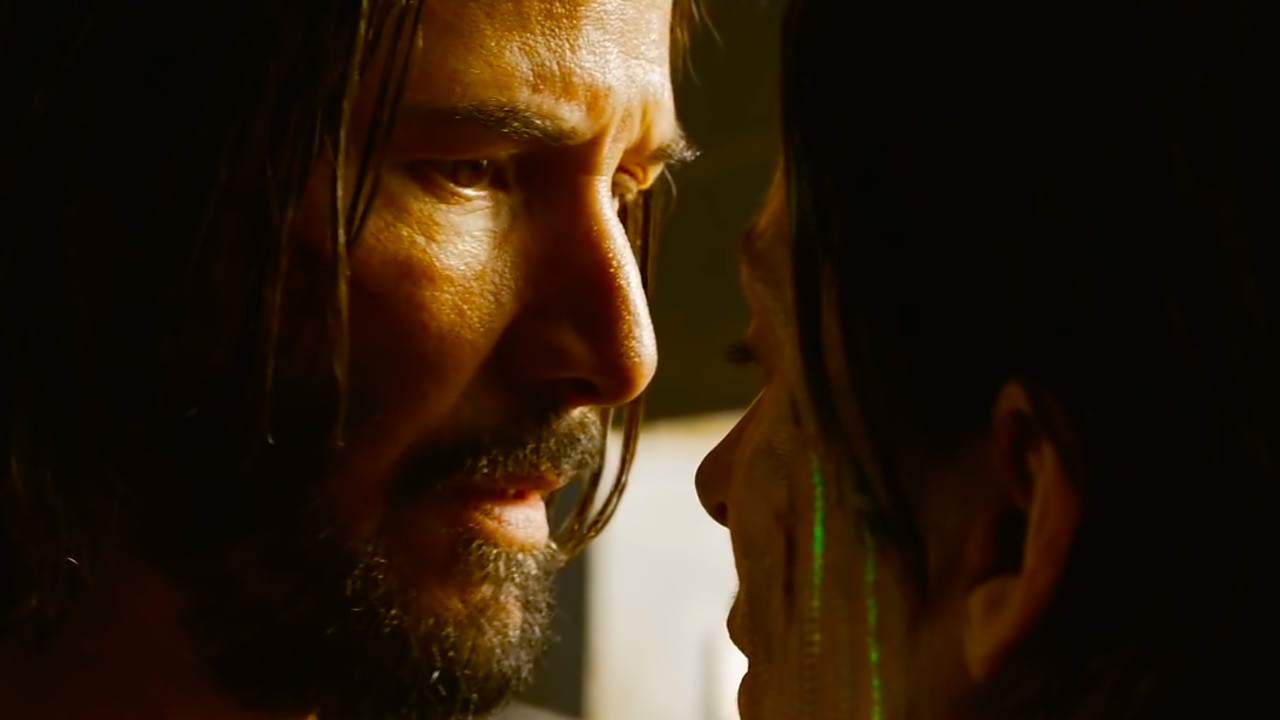 A new teaser for The Matrix Resurrections has now surfaced and offers a host of new footage, including further glimpses at the various action sequences, bullet-dodging, and missile stopping. The most intriguing element of the footage though is the sheer amount of wonderfully surreal imagery that will litter The Matrix Resurrections as Keanu Reeves once again tries to uncover the truth.
The first The Matrix made many references to Lewis Carroll's Alice in Wonderland, and it looks like the upcoming sequel will double down on this, with the new teaser displaying all manner of twisted, bizarre imagery and dreamlike visuals as Neo joins forces with a band of rebels in order to face his destiny all over again. Produced, co-written, and directed by Lana Wachowski, The Matrix Resurrections stars Keanu Reeves, Carrie-Anne Moss, Lambert Wilson, and Jada Pinkett Smith, each of whom reprises their roles from previous installments in the series, with them being joined by the likes of Yahya Abdul-Mateen II, Jessica Henwick, Jonathan Groff, Neil Patrick Harris, Priyanka Chopra Jonas, and Christina Ricci.
The Matrix Resurrections is the fourth movie in the franchise and will act as a continuation of the story established in 1999's The Matrix. Set twenty years after the first installment, the franchise that helped define pop culture at the turn of the century has returned in this mind-bending new adventure of action and epic scale, which picks up in a familiar yet even more provocative world where reality is more subjective than ever and all that's required to see the truth is to free your mind.
Related: The Matrix Resurrections Poster Has Neo Back in Black
While the project had remained rather mysterious, we now know much more about the direction of The Matrix Resurrections, with the movie beginning with Neo now living a seemingly ordinary life as Thomas A. Anderson in San Francisco where his therapist prescribes him sinister blue pills. Though he does not remember his past adventures, a young Morpheus appears to offer him the red pill, reopening his mind to the world of the Matrix.
Writer David Mitchell, who co-wrote the script alongside director Lana Wachowski, recently revealed that The Matrix Resurrections will not be the sequel many are perhaps expecting, and that, much like its predecessors, will attempt to bring something fresh to the sci-fi action blockbuster. "I saw the film in Berlin in September. It's really good," he began. "I cannot tell you what this film is about, but I could explain what it is not. It's certainly not yet one more sequel, but something autonomous that contains however the three Matrix that preceded in a really ingenious way. It's a very beautiful and weird creation. It also achieved a couple of things that we do not see in action films, meaning it subverts the rules of blockbusters."
The Matrix Resurrections will have its world premiere on December 18, 2021, in San Francisco and is scheduled to be released by Warner Bros. Pictures theatrically on December 22, 2021. The movie will also stream digitally on HBO Max in the United States for a month beginning on that same date.
This comes to us from One Take News.
JK Simmons Is Excited to Return as Jim Gordon in Batgirl on HBO Max
JK Simmons has officially confirmed his return as Jim Gordon in Batgirl and he can't wait to get started filming in January.
Read Next
About The Author