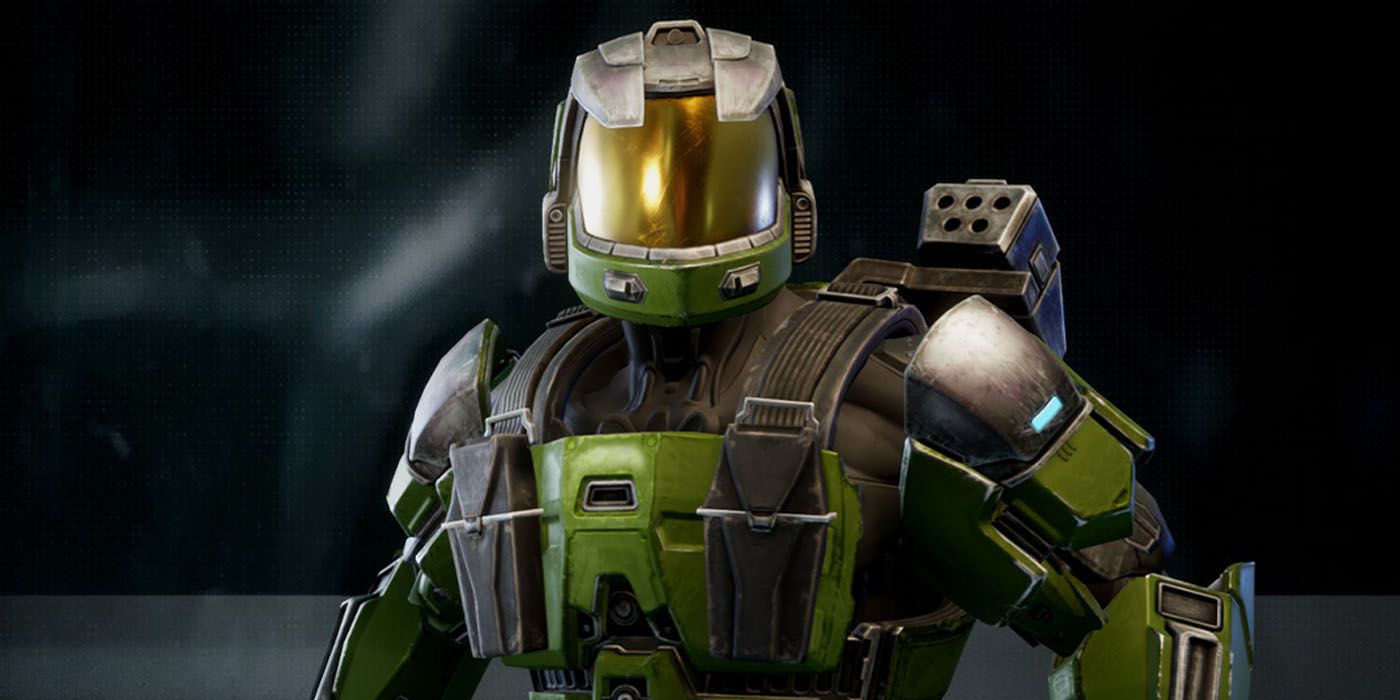 Xbox has shared images of the fan-favorite Orion suit from Halo's initial reveal trailer, which currently isn't available for use in Halo Infinite.
In celebration of Halo Infinite, Xbox recently shared images of a fan-favorite Halo: Combat Evolved armor suit, one that is oddly absent in the recently-released Halo Infinite multiplayer. Microsoft's console gaming division turns 20 this year, a milestone that coincides with the anniversary of one of Xbox's flagship franchises. Indeed, Halo: Combat Evolved was released in 2001 as a launch title for the original Xbox and helped to revolutionize the way first-person shooters play on consoles.   
For Halo fans, 2021 brings two reasons to celebrate, not only with the franchise's anniversary, but also the launch of Halo Infinite's multiplayer mode, released as a standalone free-to-play experience last week, as well as the upcoming December campaign. Halo Infinite's high player count broke Xbox records almost immediately, with over 162,000 concurrent players logging into outlets like Steam during the multiplayer's first few hours alone. This excitement was partly fueled by fans' long wait for Halo Infinite, with 343 Industries delaying the game from its planned release as a launch title for the Xbox Series X last November after fans reacted negatively to Halo Infinite's initial gameplay trailer earlier in the year.
Related: Halo Infinite Breaks Xbox Game Studios Record In Under 3 Hours
Yesterday, November 22, Xbox posted some Halo-related images to the official Xbox Game Pass Twitter page to celebrate both Xbox and Halo turning 20 this year. These screenshots depict the popular Orion armor, which was first shown off as a prototype outfit for Halo protagonist Master Chief in the initial reveal trailer for Halo: Combat Evolved back in 1999, before being released as a playable multiplayer skin for the remastered Halo: The Master Chief Collection earlier this month. Interestingly enough, the Orion suit is completely absent from Halo Infinite at the moment, despite how popular and iconic it is among the Halo fanbase.
See the post on Twitter here.
While the game contains plenty of interesting alternate Halo Infinite Spartan armor suits and color schemes for use during multiplayer matchups, players have been divided over the game's focus on microtransactions, which are seemingly favored over gameplay unlocks. Some would gladly pay full price to skip Halo Infinite's free-to-play microtransaction model, but recent leaks have indicated that users still won't be able to unlock new Halo Infinite armor when playing its upcoming story campaign.
While the recent Orion Armor Twitter post from Xbox Game Pass is likely intended to celebrate it recently being added to Halo: The Master Chief Collection, it's interesting that it was posted at a time where fans are debating the subject of alternate outfits in the Halo series' most recent multiplayer installment. The specific armor may not yet be available in the game, but there's at least another option for those looking for a new suit. Halo Infinite's Fracture: Tenrai event is being held today, November 23, giving players the chance to unlock the Armor Cores for the exclusive Samurai-like Halo Infinite Yoroi armor suit.
Next: Halo Infinite Campaign Explains Master Chief's New Shields
Source: Xbox Game Pass/Twitter
Battlefield 2042 Already on Steam's All-Time Worst Reviewed Games List
About The Author